A while back I had a 55 gallon sport a leak between the front panel and one of the side panels. Lacking the time and inclination to deal with it, I moved it to the garage and moved another 55 gallon I was goin' to put elsewhere in its place.
So finally decided to tackle this bad boy. A little background on the tank. It's a very old Metaframe tank, my first 55 gallon as a matter of fact, that I purchased used in 1988. It was old then. The plastic frame has always been on the rotten side and the center brace was missin' when I bought it, but it has never bowed. That said, the glass is slightly green but amazingly free of scratches. It is all 3/8" glass, rather than the 1/4" glass used for 55 gallon tanks nowadays.
So 'cuz the frame was so battered, it fell apart when I tried to remove it. Considerin' my experience with the tank, I decided I'd give ita go as a rimless, somethin' I wouldn't do with a newer tank with thinner glass.
First step was removin' the front piece. That was a PITA.
Nicked the side piece in the process.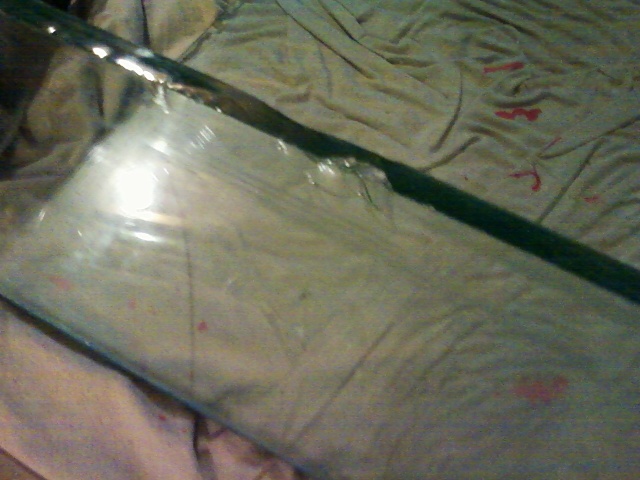 Normally, I'd be worried 'bout this, it's more than halfway through the width of the glass. But in this case, not so much. Ya'll will see why later.
Scraped the old silicone offa the glass. This is imperative. Old silicone left on the glass can keep new silicone from adhering and potentially cause a faulty seal and subsequent leak.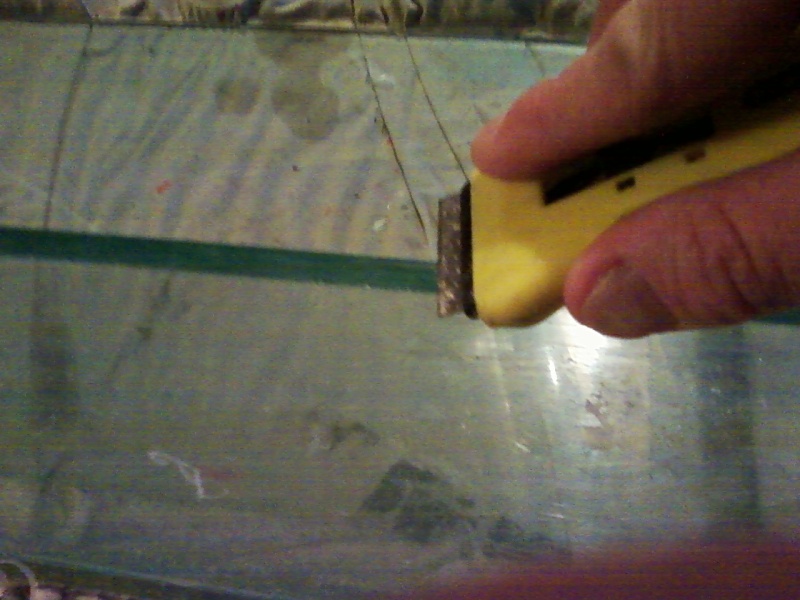 The best way to ensure yer done scrapin' is to run yer finger over the glass. If it's smooth and yer finger runs without resistance, it's ready for the new silicone. If there is any resistance then there is still silicone residue. Small amounts of residue can easily be removed by vigorously rubbing with a finger as well as scraping.
So now that it's apart and scraped clean, I take a cloth dampened with vinegar and wipe away all loose silicone on the surfaces to be resealed.
Resealin' is fer tomorrow, though.
WYite